S2:Ep 11
National Black MBA Conference: Are You Really Ready?
Every year the National Black MBA Association holds its annual Conference & Expo and it's a week of networking, learning, fellowshiping, meeting, greeting and even interviewing for new job opportunities.
This year is going to be no difference as more than 10,000 professionals head to Detroit, MI for the 40th Annual Conference and Exposition September 25-29, 2018.
Over 300 companies will set up (to various levels) elaborate and well thought out booths to entice potential applicants to learn more about why everyone should want to join their company.
In this episode, I talk about my past conference experiences and what it's like to attend the conference.
This conference is a great opportunity to get in front of many fortune 500 companies, BUT……
ONLY IF YOU ARE PREPARED!!!  
But I'm here to help you get prepared….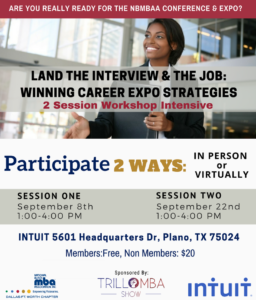 Register to Attend:  VIRTUALLY or IN PERSON
FREE for National Black MBA Members  $20 for everyone else…… There is a discount code in this episode that makes it free for Trill MBA Show listeners too!!!
If you have any questions, email ask@trillmba.com
Podcast: Play in new window | Download
Subscribe: Google Podcasts | Spotify | RSS