Join @TrillMBAShow  IG LIVE  April 1, 2020 9PM EDT/ 6PM PDT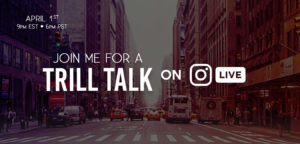 S4:Ep 8
Navigating Your Career Amid Coronavirus w/ Alexandrea Davis
In this episode, I chat with one of my MBA besties about how we are thinking through our careers during #ThatRona.
We share some nuggets and things you should be thinking about:
How we are feeling and how to assess this Reset season in our lives.
Are you in the right industry?
Why you shouldn't worry about your job during the 'rona.
The most important thing! Besides Washing Your Hands!!!
Have you received some Trill Lessons from this podcast?  If yes, could you help us out by subscribing and leaving a quick review in iTunes?  Hitting subscribe and leaving a review makes a HUGE difference and should only take a minute. 
Editing and Sound Design by Chris Mann of Podshaper
Podcast: Play in new window | Download
Subscribe: Google Podcasts | Spotify | RSS